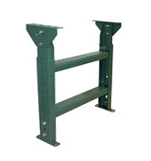 Floor Support - Light Duty - LS Type
Floor Supports are for permanent installation of gravity conveyor and are available for almost any conveyor height. They can be bolted to the floor with lag screws or concrete anchors.
This is a standard, light duty support for skatewheel and 1-3/8 in. diameter roller gravity conveyors. These supports are rated for 1,500 lbs. maximum capacity each.
---
We Also Recommend